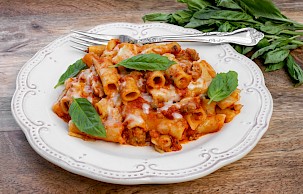 Baked Ziti
with Marinara Pasta Sauce
Serves: 8
Ingredients
1 lb ziti
1 lb sweet Italian sausage
1 lb ricotta cheese
1 egg
1 tsp salt
½ tsp pepper
2 Tbsp fresh basil, chopped
2 Tbsp fresh parsley, chopped
2 cups shredded mozzarella
½ cup grated Parmesan cheese
1 jar DelGrosso's Marinara Pasta Sauce
½ cup heavy cream
Directions
Pre-heat oven to 350 degrees.
Cook ziti according to package directions.
Cook sausage in a skillet on medium heat until no longer pink.
Pour sauce in a small pot, add cream, and heat on medium-low heat, stirring frequently.
In a bowl, mix together ricotta, egg, salt, pepper, basil, parsley, mozzarella, and Parmesan cheese until well-blended.
Drain ziti and pour back into pot.
Add sausage, cheese mixture, and sauce to the ziti and mix through.
Pour everything in a baking dish and bake covered for 50-60 minutes.
Serve with your favorite salad.
Baked ziti has all the ingredients of lasagna without the extra work. For a vegetarian option, omit the sausage. Try a variety of vegetables such as pepper, onions, and mushrooms. To reheat the next day, add extra sauce as the pasta will absorb the sauce.