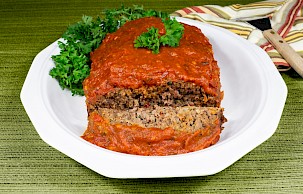 Italian Style Meatloaf
with Roasted Garlic Pasta Sauce
Serves: 8
Ingredients
3 Tbsp olive oil
½ cup onion, chopped
½ cup celery, chopped
½ cup carrot, chopped
½ cup red bell pepper, chopped
2 cloves garlic, chopped
2 eggs
¼ cup fresh basil, chopped
2 Tbsp fresh parsley, chopped
1 tsp salt
½ tsp pepper
¼ cup Italian seasoned breadcrumbs
½ cup grated Parmesan cheese
2 pounds ground beef
1 jar DelGrosso Roasted Garlic Sauce, divided
Directions
Pre-heat oven to 350 degrees.
Heat olive oil in a large pan on medium-high heat. Sauté onions, celery, carrots, and red peppers until soft.
Add garlic to the vegetables and sauté for one more minute. Remove from heat and let cool.
In a small bowl whisk together eggs, basil, parsley, salt and pepper.
In another small bowl mix together bread crumbs and Parmesan cheese until well-blended.
In a large bowl hand mix the ground beef, sautéed vegetables, egg mixture, and ½ cup of sauce until evenly combined. Add bread crumbs and Parmesan cheese and mix through.
Shape meat mixture into a 9x5 loaf and place in a baking dish.
Bake uncovered for 45 minutes.
Remove from oven and pour remaining sauce evenly over the top of the meatloaf.
Bake for 15 more minutes.
Transfer to a platter and serve with your favorite side dishes.  
Notes:
For a slightly different flavor and texture, add the vegetables directly to the meat without sautéing. To substitute dried herbs for fresh, use 4 tsp of dried basil and 2 tsp of dried parsley.