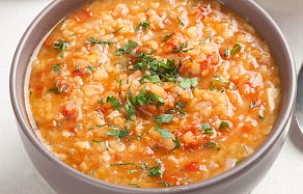 Lentil Warmer
with Meat Flavored Pasta Sauce
Serves: 6 to 8
Ingredients
• 7 Tbsp olive oil
• 1 medium onion, chopped
• 2 celery stems, chopped
• 1 carrot, chopped
• 3 quarts water
• 1 lb. bag dry lentils
• 1 lb. cooked hot or mild Italian sausage cut into 1" pieces
• 1 26 oz. jar DelGrosso Meat Flavored Spaghetti Sauce
• 5 cups water
• 1/8 tsp. garlic powder
• 1/8 tsp. crushed red pepper
• 3 tsp. salt
• 1/4 tsp. black pepper
Directions
• Heat olive oil in a skillet over medium heat.
• Sauté onions, celery, and carrots for 20-25 minutes.
• While vegetables are cooking, place lentils in a 6-quart stockpot with 3 quarts of water and cook for 30 minutes.
• Drain lentils in a colander and return to stockpot.
• Add cooked sausage, DelGrosso Meat Flavored Spaghetti Sauce, vegetables, water, garlic powder, crushed red pepper, salt and black pepper.
• Simmer over medium/high heat for another 30 minutes.
Notes
Preparation Time: 1 hour 30 minutes