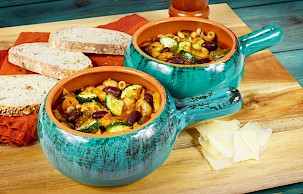 Minestrone
with Garden Style Pasta Sauce
Serves: 8
Ingredients
½ cup elbow macaroni, uncooked
1 Tbsp olive oil
1 Tbsp butter
1 cup sweet onion, diced
1 cup celery, diced
1 cup carrots, cut into ½ inch pieces
1 cup zucchini, cut into ½ inch pieces
2 cups cabbage, cut into small pieces
2 cloves garlic
1 tsp dried oregano
1 15 oz can kidney beans, drained and rinsed
1 quart chicken broth
1 jar DelGrosso Garden Style Sauce
½ cup water
Parmesan cheese for garnish
Salt and pepper to taste
Directions
Cook macaroni according to package directions. Drain and set aside.
Heat oil and butter in stock pot over medium-high heat, then sauté onions, celery, and carrots until soft.
Add salt and pepper to taste.
Add garlic, oregano, cabbage, and zucchini. Cook for 2 minutes.  
Add chicken broth and stir through.
Pour sauce into pot. Add ½ cup of water to jar, place lid back on and shake, pouring excess sauce into pot.
Add beans and cooked elbow macaroni. Stir through.
Bring to a boil, then simmer for one hour.
Serve in bowls, then garnish with grated or shaved Parmesan cheese.
Try a variety of beans such as cannellini beans or chickpeas. For spicy minestrone, add 1 tsp crushed red pepper flakes. For a gluten-free option, omit pasta and substitute cubed potato. You may have to add extra chicken broth the next day as pasta absorbs the liquid.