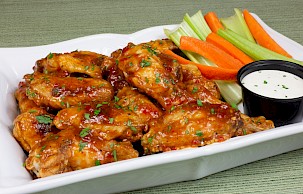 Baked Barbecue Wings
with Sloppy Joe Sauce
Serves: 4-6
Ingredients
3 pounds party wings
2 Tbsp olive oil
2 tsp salt 2 tsp garlic powder
2 tsp onion powder
2 tsp smoked paprika
1 tsp cumin
1 tsp black pepper
1 tsp cayenne
¾ cup Frank's Hot Sweet Chili Sauce
¼ cup DelGrosso Sloppy Joe Sauce
Directions
• Preheat the oven to 400 degrees and spray a baking sheet with cooking spray.
• Mix the spices in a small bowl and set aside.
• Place the wings in a large bowl, add oil and mix through.
• Sprinkle in half the spices, hand toss, add the rest of the spices, and mix through until they are coated.
• Place the wings on the baking sheet and bake for 45 minutes. After 20 minutes, flip wings over with tongs and finish baking for 25 more minutes or until no longer pink.
• Mix the sweet chilli sauce and the sloppy joe sauce together in a large bowl.
• Remove wings from oven and immediately add to the bowl of sauce and mix through to coat evenly.
• Serve on a platter with celery and carrot sticks and a side of blue cheese or ranch dressing. 
You can find pre-cut wings at your grocery store that are labelled party wings, which are the wingettes and drumettes. You can also buy whole wings and cut them yourself through the joint. For crispier wings, place wings on an oven-proof cooking rack and place the rack on the baking sheet. If you want less spicy wings, cut back on the cayenne seasoning.