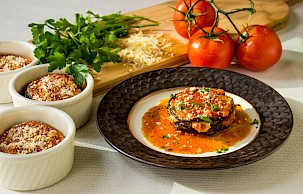 Eggplant Towers
with Extra Tomatoes Pasta Sauce
Serves: 8
Low Carb
Quick to make
Vegetarian
Gluten Free
Ingredients
2 large eggplants
salt, pepper and granulated garlic to taste
1 jar DelGrosso Extra Tomatoes Onions and Garlic Sauce
8 oz fresh mozzarella, cut into ½ inch cubes
1/3 cup grated Parmesan cheese
8 ramekins
cooking spray
chopped parsley for garnish
Directions
Slice the eggplants into round slices ¼ inch thick.
Season with salt, pepper, and granulated garlic.
Place eggplant slices in single layer on baking sheets prepared with cooking spray. Bake for 10 minutes at 350 degrees.
Spray each ramekin with cooking spray.
Place a tablespoon of sauce in bottom of ramekin, place a slice of eggplant on top of the sauce, add sauce and spread to the outer edge, add 5-6 cubes of fresh mozzarella, sprinkle with grated parmesan cheese, and begin layering with eggplant again. 
Repeat this process until the last eggplant is at the top of the ramekin.  For the last slice of eggplant that goes on top, just add sauce and parmesan cheese, no mozzarella.
Place all ramekins on a baking sheet and bake at 350 for 20 minutes.
Allow the eggplant towers to cool for at least 20 minutes.
Move a knife around the inside edge of the tower in a circular motion to loosen eggplant.
Place a small plate on top of the ramekin and flip it over.  Gently lift the ramekin to release the eggplant tower onto the plate.
Add grated Parmesan cheese and chopped parsley to garnish.
The eggplant may be served as an appetizer or can be transferred to your dinner plate as a side dish for your entrée. Each tower should have the same size eggplant slices to help tower stability. Smaller ramekins for smaller diameter eggplant slices, and larger ramekins for larger diameter eggplant slices are recommended.