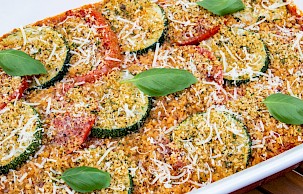 Tomato Zucchini Bake
with Roasted Garlic Pasta Sauce
Serves: 4
Ingredients
2 large tomatoes, sliced into rounds
½ large zucchini, sliced into rounds
¼ cup olive oil
½ cup Italian seasoned panko
1 Tbsp butter
1 Tbsp fresh basil, chopped
1 Tbsp fresh parsley, chopped
3 Tbsp grated Parmesan cheese
1 cup DelGrosso Roasted Garlic Sauce
Salt, pepper, and granulated garlic to taste
Fresh basil leaves for garnish
Directions
Pre-heat oven to 400 degrees.
Brush tomato and zucchini rounds with olive oil, then season with salt, pepper, and granulated garlic.
Place vegetables on a baking sheet and roast in oven for 10 minutes.
Add chopped basil and parsley to panko and mix through.
Melt butter in a small sauce pan on medium heat. Add seasoned panko and stir until toasted. Set aside.
Remove vegetables from oven and set aside. Lower oven temperature to 350 degrees.
Pour roasted garlic sauce to cover bottom of a 9x13 baking dish.
Place vegetables on top of the sauce by alternating the tomatoes and zucchini slices.
Sprinkle Parmesan cheese over the vegetables, then top with the toasted panko.
Bake at 350 degrees uncovered for 10 minutes.
Remove from oven and garnish with fresh basil leaves.
Serve as a side dish for beef, chicken, or fish.
Choose zucchini and tomatoes that are about the same size when slicing into rounds. You can also add sliced eggplant or fresh mozzarella to this dish.