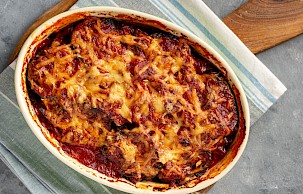 Beef Tips Italiana
with Mushroom Pasta Sauce
Serves: 4 to 6
Ingredients
3 Tbsp olive oil, divided

2 cloves fresh garlic, chopped

2 lb. beef sirloin tips

1 red bell pepper, cut into cubes

1 yellow bell pepper, cut into cubes

1 8 oz package sliced mushrooms

1 medium onion, diced

½ cup red wine

2 cups DelGrosso Mushroom Sauce

½ cup water

8 oz shredded mozzarella cheese

Salt and pepper to taste
Directions
Heat olive oil and garlic in skillet; add beef.
Salt and pepper meat to taste.
Stir-fry beef until liquid from meat is absorbed.
Place beef tips in a 2-quart casserole dish.
In the same skillet, add remaining olive oil, and stir fry peppers and onions for 2 minutes.
Add mushrooms and stir fry for two additional minutes.
Place vegetables in a casserole dish with beef tips.
Add red wine to drippings in skillet and whisk.
Cook for one minute then add puttanesca sauce and water.
Cook for 2 minutes.
Pour mixture over beef and vegetables. Bake uncovered for 1 hour at 350 degrees.
Remove casserole from oven and sprinkle shredded cheese over top.
Return to oven and broil until cheese is melted.
Substitute chicken or tofu for beef. Instead of baking in a casserole dish, spoon beef tips in sauce on a sub roll, add cheese, and broil until cheese is melted to make a delicious sandwich.