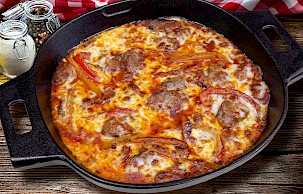 Cheesy Sausage Skillet
with Garlic and Cheese Pasta Sauce
Serves: 4
Low Carb
Quick to make
Vegetarian
Gluten Free
Ingredients
1.5 pounds sweet Italian sausage
1 large onion, sliced
1 bell pepper, sliced
2 Tbsp olive oil
2 cups DelGrosso Garlic and Cheese Sauce
2 cups shredded mozzarella cheese
salt and pepper to taste
granulated garlic to taste
Directions
Cook sausage in large skillet on medium heat until browned on all sides and cooked through.
In large skillet sauté onions and peppers until caramelized. Season with salt, pepper, and granulated garlic.
Remove sausage from skillet and let rest for five minutes, then slice into pieces on a diagonal. Remove grease from skillet and discard.
Place sausage back into skillet and top with peppers and onions. Add sauce and mix through.
Sprinkle cheese evenly over sausage, place lid on skillet, and cook on medium-high for 10 minutes until sauce is heated through and cheese is melted.
Serve with a salad, Italian bread, or side of pasta.
Experiment with different cheeses to melt on top such as provolone or asiago and top with Parmesan or Romano. To make a sub, place sausage, peppers, onions, and melted cheese on a roll, then put under the broiler to brown the cheese.