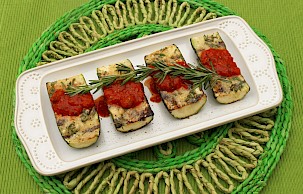 Rosemary Parmesan Zucchini Boats
with Garden Style Pasta Sauce
Serves: 4
Low Carb
Quick to make
Vegetarian
Gluten Free
Ingredients
1 medium zucchini
2 tsp olive oil
2 tsp melted butter
2 tsp fresh rosemary, chopped
2 tsp grated parmesan cheese
½ cup DelGrosso Garden Style Sauce
Salt and pepper to taste
Directions
Cut the zucchini in half. Cut each half lengthwise into two pieces.
Brush the four pieces of zucchini with oil on both sides.
Season zucchini with salt and pepper to taste.
Heat the grill on medium heat.
Place the zucchini pieces on the grill and close the lid.
Grill for 10 minutes, then flip over. You should see nice grill marks and the flesh should just start to become soft.
Grill on other side for 5-7 minutes until flesh is soft.
Remove from grill and brush each piece with melted butter. Sprinkle grated parmesan cheese over the butter and top with fresh rosemary.
Place zucchini back on the grill and close the lid. Grill for 2 minutes or until cheese is melted.
While zucchini is grilling, heat the sauce on the stove until warm.
Remove zucchini from the grill and spoon sauce over the zucchini.
Serve as side dish to your favorite meat.
Grilling times will vary depending on the size of the zucchini. Zucchini can also be baked at 400 degrees and the last few minutes can be placed under the broiler. Zucchini can be cut into strips like fries and the sauce can be used for dipping.