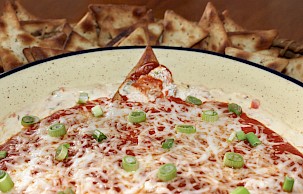 Touchdown Pizza Dip
with Deluxe Pizza Sauce
Serves: 10
Low Carb
Quick to make
Vegetarian
Gluten Free
Ingredients
2 Tbsp of butter
1 cup red pepper, finely chopped
½ cup green onion, thinly sliced
1 pound cream cheese, softened
1 tsp dried basil
1 tsp dried oregano
1 cup of your favorite DelGrosso pizza sauce
½ cup shredded mozzarella
1 green onion for garnish, thinly sliced using only the green part
Directions
• Heat butter in a sauté pan on medium heat.
• Sauté peppers and green onions until soft, about 4 minutes.
• Reduce heat to low.
• Add cream cheese in small amounts and stir until melted.
• Add basil and oregano.
• Mix thoroughly until cream cheese, peppers, onions and herbs are distributed evenly.
• Transfer cream cheese mixture to a 9 inch pie plate or shallow baking dish.
• Spoon pizza sauce evenly over dip, leaving about one inch of cream cheese mixture showing around the edge.
• Sprinkle shredded mozzarella cheese evenly over the sauce.
• Bake at 350 degrees for 15 minutes or until cheese is melted.
• Serve with crackers or sliced baguettes.
For meat lovers, add sliced pepperoni or cooked Italian sausage, crumbled and drained. A great cracker to serve with this dip is Townhouse Mediterranean Herb pita crackers.