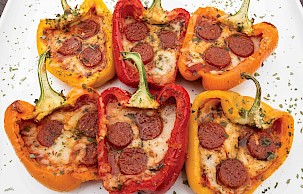 Pepperoni Pizza Peppers
with Pepperoni Flavored Pizza Sauce
Serves: 4
Low Carb
Quick to make
Vegetarian
Gluten Free
Ingredients
• 4 bell peppers, halved and cored
• 1 Tbsp olive oil
• 1 jar Original DelGrosso Pepperoni Flavored Pizza Sauce
• 2 cups shredded mozzarella cheese
• 1/3 cup grated Parmesan cheese
• 24 pieces mini pepperoni
• 1 Tbsp dried basil
• 1 tsp crushed red pepper flakes
• salt and pepper to taste
Directions
• Preheat oven to 400 degrees.
• Place pepper halves on sheet tray. Brush with olive oil and season with salt and pepper on both sides of each pepper.
• Spoon pizza sauce in each pepper and add shredded mozzarella cheese.
• Place three pieces of mini pepperoni on each pepper.
• Sprinkle each pepper with grated Parmesan then top with basil and crushed red pepper flakes.
• Bake in the oven for 25-30 minutes until peppers are soft and golden brown on the bottom.
Notes
*When cutting peppers in half, slice down through the stems to keep the stems attached to the peppers for presentation. Omit the pepperoni for vegetarian pizza peppers. For a variety of flavors, add vegetables such as mushrooms, caramelized onions, or sun dried tomatoes.