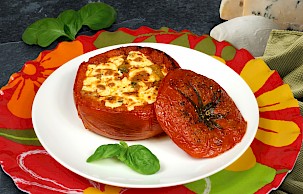 Three Cheese Stuffed Tomatoes
with Tomato Basil
Serves: 8
Low Carb
Quick to make
Vegetarian
Gluten Free
Ingredients
8 large tomatoes
½ cup DelGrosso Tomato Basil Sauce
4 oz fresh mozzarella, cubed
4 oz fontina cheese, shredded
4 oz gorgonzola cheese, crumbled  
2 Tbsp fresh rosemary, chopped
½ cup roasted pistachios, chopped
¼ cup olive oil to drizzle
Salt and pepper to taste
Directions
Preheat oven to 350 degrees.
Slice ½ inch off the top of each tomato and scoop out the center, discarding the pulp.
Season the inside of the tomatoes with salt and pepper. Drizzle the tops of each tomato with olive oil, then season with salt and pepper.
Transfer tomatoes to a baking dish.
Each tomato should be layered with sauce on the bottom, followed by cubed mozzarella, rosemary, gorgonzola, fontina, and topped with pistachios.
Place the tops back on each tomato and bake uncovered for 30 minutes. Remove tops of tomatoes and bake for 5 more minutes, or until fontina cheese is slightly browned.
Allow tomatoes to rest for 10 minutes, places tops back on, and serve.
When layering the ingredients, use approximately 1 Tbsp of sauce for each tomato, 2 Tbsp of each kind of cheese, less than 1 tsp of rosemary per tomato, and 1 Tbsp of pistachios. The size of your tomatoes will determine how much of each ingredient you need. Experiment with different cheeses such as ricotta, Parmesan, feta, or goat cheese. For meat lovers, try ground turkey, beef, or sausage.