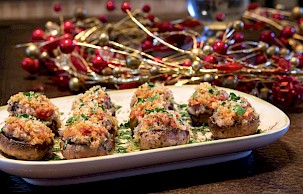 Stuffed Mushrooms
with Roasted Garlic Pasta Sauce
Serves: 16
Ingredients
2 lbs whole mushrooms
1 lb ground pork sausage
¼ cup pine nuts, chopped
¼ cup black olives, chopped
¾ cup Pecorino Romano cheese, divided
2 garlic gloves, chopped
2 Tbsp fresh parsley, chopped
2 Tbsp fresh basil, chopped
1 Tbsp fresh thyme, chopped
½ cup olive oil, divided
2 cups DelGrosso Roasted Garlic Sauce
1 cup Italian seasoned panko
2 Tbsp butter
- salt and pepper to taste
Directions
• Preheat oven to 400 degrees.
• Mix sausage, pine nuts, olives, ½ cup of cheese, garlic, parsley, basil, thyme, 2 Tbsp of olive oil, salt and pepper in mixing bowl until well-blended.
• Melt butter in small sauce pan. Add panko, and stir until browned.
• Remove stems from each mushroom and make a hole for stuffing.
• Brush the outside of each mushroom with remaining oil and season with salt and pepper, place in a casserole dish with open end up, and season the insides with salt and pepper.
• Stuff mushrooms with the sausage mixture, top each with a spoonful of sauce, then sprinkle cheese and finish with toasted panko.
• Bake for 20 minutes.
Beef or turkey sausage can be substituted for pork sausage. The stems are not used in this recipe, but can certainly be added to the filling. The filling can also be used to stuff braciole or peppers.