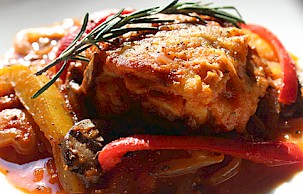 Chicken Cacciatore
with Garden Style Pasta Sauce
Serves: 6
Ingredients
• 1/4 cup vegetable oil
• 6 boneless, skinless chicken breasts (approximately 2 lbs.), salt and pepper to taste
• 1 cup flour
• 1 cup diced green bell pepper
• 2 cups diced onion
• 2 cups sliced mushrooms
• 1/4 cup sherry
• 1 26 oz. jar DelGrosso Garden Style Spaghetti Sauce
• 1/2 cup water
Directions
• Heat oil in large skillet over medium heat.
• Season chicken to taste and dredge in flour.
• Lightly brown chicken in skillet, remove chicken and set aside in baking pan.
• In same skillet, add onion, pepper and mushrooms.
• Sauté 2-3 minutes on medium heat.
• Add sherry and cook on medium heat for 2 minutes.
• Add DelGrosso Garden Style Spaghetti Sauce and water and cook for 2-3 additional minutes.
• Pour over chicken, cover and bake at 350 degrees for 30 minutes.
• Serve with your favorite pasta or rice.
Notes
Preparation Time: 45 minutes