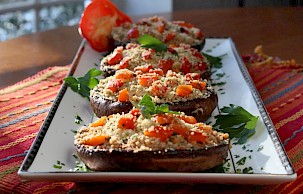 Stuffed Portobello Mushrooms
with Mushroom Pasta Sauce
Serves: 4
Low Carb
Quick to make
Vegetarian
Gluten Free
Ingredients
4 Portobello mushrooms, stems removed
4 Tbsp butter, divided
1 Tbsp olive oil
1 cup DelGrosso Mushroom Sauce
4 slices fresh mozzarella ¼ inch thick
½ cup Italian seasoned panko
¼ cup grated Parmesan cheese
1 red bell pepper
4 Tbsp fresh parsley, chopped
Salt and pepper to taste
Directions
Melt 2 Tbsp of butter in a large skillet over medium heat. Sauté mushrooms for 2 minutes on each side, then season with salt and pepper to taste. Set aside.
Cut pepper in half, remove seeds, and press down so peppers are flat. Brush with oil on both sides, season with salt and pepper, and roast in oven at 450 degrees until the pepper just starts to turn black.  Be sure to flip over to blacken the other side.
Melt 2 Tbsp of butter in a small pan. Place seasoned panko in pan and toast for 1 minute. Add Parmesan cheese and parsley. Mix through and toast one more minute. Remove from heat and set aside.
When peppers are roasted, remove from oven, let cool, remove most of the skin, and cut into cubes. Reduce the heat of the oven to 350 degrees.
Place mushrooms on a baking sheet face up. Spoon ¼ cup of sauce in each mushroom.
Place a slice of fresh mozzarella on top of the sauce.
Place the chopped peppers evenly over the cheese.
Sprinkle the panko and Parmesan mixture over the peppers.
Bake in oven for 15 minutes at 350 degrees.
Remove from oven and let cool.  Serve as a main entrée with a salad or serve as a side dish to chicken or beef.  
Baby Bellas can be used for appetizer portions.  Remove stems, scoop out flesh, and use same ingredients as above.  Mozzarella cheese will have to be cubed to fit inside smaller mushrooms. Instead of sautéing mushrooms at the beginning, dip each mushroom in melted butter before baking.