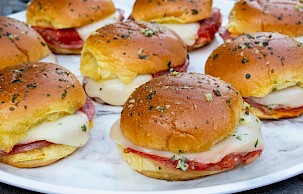 Italian Sliders
with Pepperoni Flavored Pizza Sauce
Serves: 6
Ingredients
• 12 slider rolls
• 12 slices baked ham
• 12 slices hard salami
• 12 slices provolone cheese
• ¾ cup DelGrosso Pepperoni Flavored Pizza Sauce
• 1 stick butter
• 2 cloves garlic, pressed or finely chopped
• 1 Tbsp Italian seasoning
Directions
• Pre-heat oven to 350 degrees.
• In a small sauce pan, melt butter, then add garlic and Italian Seasoning. Remove from heat.
• Remove tops of rolls and place the bottom halves in a 9x13 baking dish.
• Fold each piece of ham in half and then in half again.
• Fold each piece of provolone in half.
• Layer the ham, salami, pizza sauce, and provolone cheese on top of each slider roll bottom.
• Replace the top halves of the rolls and brush each one with the seasoned garlic butter.
• Bake uncovered for 10 minutes or until cheese is melted.
Notes:
Add roasted peppers, banana peppers, or sun-dried tomatoes to enhance flavor. Sprinkle Parmesan or Romano cheese over top of the sliders after brushing on the seasoned garlic butter. You can also add parsley on top for color or crushed red pepper to spice things up.