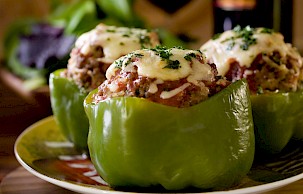 Stuffed Green Peppers
with Meatless Pasta Sauce
Serves: 6
Ingredients
• 6 medium green bell peppers
• 1/2 lb. ground chuck
• 2 large eggs
• 1 cup cooked rice
• 1/2 cups unseasoned breadcrumbs
• 1/2 cup water
• 1/2 tsp salt
• 3/4 tsp black pepper
• 1 26 oz. jar DelGrosso Meatless Spaghetti Sauce
• 2 cups water
Directions
• Core peppers and blanch in a large pot of boiling water (about 3-5 minutes).
• Mix together ground chuck, eggs, rice, breadcrumbs, water, salt and pepper.
• Fill peppers with ground chuck mixture and arrange in deep baking dish.
• Mix together DelGrosso Meatless Spaghetti Sauce with 2 cups water and pour over peppers.
• Bake uncovered at 350 degrees for 1 hour, cover and bake for another 1 to 1-1/2 hour.
Notes
Preparation Time: 2 hours