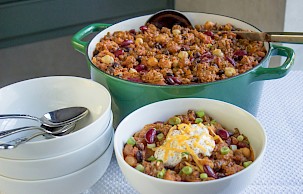 Red Zone Chili
with Meat Flavored Pasta Sauce
Serves: 10
Low Carb
Quick to make
Vegetarian
Gluten Free
Ingredients
3 pounds ground beef
1 16 oz can dark red kidney beans drained and rinsed
1 16 oz can black beans drained and rinsed
1 16 oz can garbanzo beans drained and rinsed
1 16 oz can pinto beans in chili sauce
1 jar of DelGrosso Meat Flavored Sauce
2 jars of DelGrosso Salsa – one hot and one medium
1 Cup of water
- Salt, pepper, granulated garlic, and chili powder to taste
- Sour cream, shredded cheddar cheese and chopped green onions to garnish
Directions
• Place beef in a large skillet and season with salt, pepper and granulated garlic to taste. Cook over medium heat until browned. Stir occasionally.
• While beef is browning, pour all 4 cans of beans into a large pot.
• When beef is no longer pink, drain fat and add beef to the pot.
• Stir the beef and beans together then season with chili powder. Start with 1 Tablespoon of chili powder and mix into the beef and beans. Continue to taste and add more chili powder until desired flavor.
• Add one jar of DelGrosso meat flavored sauce. After pouring the sauce, add a small amount of water to the jar, place the lid back on, shake well to release all the sauce, and pour into the chili. Add one more cup of water to the chili and stir.
• Add two jars of salsa and mix together all ingredients.
• Taste again for desired flavor and add more chili powder if necessary.
• Cook on medium for 20 minutes.
• Serve with sour cream, shredded cheddar and chopped green onions for garnish.
For a healthier version, use ground chicken or turkey instead of ground beef. To adjust the spice level of your chili, you can choose between mild, medium, or hot salsa or a combination of two of them.