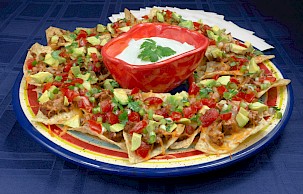 Loaded Nachos
with Sloppy Joe Sauce
Serves: 6
Ingredients
• ½ cup tomatoes, chopped
• ¼ cup green onions, sliced
• ½ lime, juiced
• 1 pound ground beef
• 1 jar DelGrosso Sloppy Joe Sauce
• 1 large bag tortilla chips
• 1 cup shredded Monterey Jack cheese
• 1 cup shredded cheddar cheese
• 1 avocado, seeded and sliced into small pieces
• 1 cup sour cream
• Fresh cilantro for garnish
• Salt, pepper, and garlic powder to taste
Directions
• Pre-heat oven to 375 degrees.
• Combine tomatoes and green onions in a small bowl, add lime juice, and mix together. Set aside.
• Season ground beef with salt, pepper, and garlic powder, then cook on medium heat until no longer pink.
• Drain fat, then add Sloppy Joe Sauce. Mix through, and cook on low for 10 minutes.
• Arrange single layer of tortilla chips on a large oven proof platter or baking sheet.
• Spoon half the meat on the nachos, then sprinkle half of each cheese over the meat.
• Arrange another layer of chips on top and repeat with meat and cheese.
• Bake for 10 minutes or until cheese is melted.
• Remove from oven and top with avocado slices and tomato and green onion mixture. Garnish with cilantro.
• Serve with sour cream.
*Notes
You can substitute ground chicken, turkey, or pork. Try a variety of toppings such as sliced jalapeno, black beans, olives, or salsa. For a short cut, you can put the chips with meat and cheese in the microwave for approximately 2 minutes.