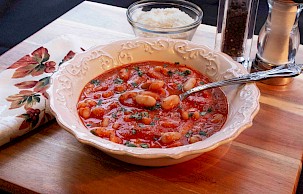 Finizio Tomato Bean Soup
with Tomato Basil
Serves: 2-3
Low Carb
Quick to make
Vegetarian
Gluten Free
Ingredients
• 1 15oz. can cannellini beans
• 1 clove garlic, diced
• 2 Tbsp olive oil
• 1 jar DelGrosso Tomato Basil Sauce
• 1 tsp onion powder
• 6 Tbsp grated Parmesan cheese, divided
• 1 cup water
• 1 tsp salt
• 1/2 tsp pepper
• 5 fresh basil leaves, chopped
Directions
• Drain and rinse the cannellini beans. Set aside.
• Saute the garlic in olive oil on medium heat until golden.
• In a blender, combine tomato basil sauce, onion powder, 3 tablespoons grated cheese, water, salt, pepper, and sauteed garlic and olive oil. Blend until you reach a creamy consistency.
• Pour into a small pot and heat on medium-low.
• Serve in soup bowls, top with remaining cheese, and garnish with fresh basil.
*Notes
Cannellini beans are white kidney beans. You can use a variety of beans for added color, texture, and flavor. For meat lovers, add cooked ground beef, chicken, or turkey.