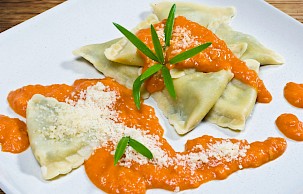 Ravioli with Tomato Basil Cream Sauce
with Tomato Basil
Serves: 4
Ingredients
2 Tbsp butter
1/4 cup onions, chopped
1 jar DelGrosso Tomato Basil Sauce
½ cup water
1 cup heavy cream
2 lb. frozen cheese ravioli, cooked
½ cup grated Romano or Parmesan cheese
Directions
• In a medium saucepan, melt butter over medium heat.
• Sauté onions until soft.
• Pour tomato basil sauce in pan. Add ½ cup of water to the jar, tighten lid, and shake. Pour excess sauce and water into the pot, then add cream.
• Cook for 2 more minutes.
• Place ravioli in a baking dish and pour sauce over pasta.
• Sprinkle with grated cheese and serve with salad and crusty bread.
Sauté peppers and mushrooms with the onions for added texture and flavor. For a thinner consistency and less rich flavor, use light cream or half and half.