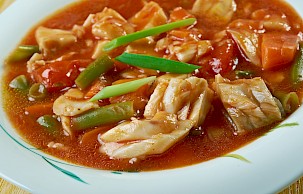 Crab Soup
with Extra Tomatoes Pasta Sauce
Serves:
Ingredients
1 - 16 oz. bag frozen vegetables (corn, green beans, limas, peas)
6 potatoes (peeled and cubed)
2 qts. canned tomatoes
1 jar Delgrosso Spaghetti Sauce (Extra Tomatoes, Onion, and Garlic or a favorite variety)
8 oz. Crab Meat (hand picked or store bought)
4 T Old Bay
2 qt. water
Directions
Combine and cook in a large pot until all vegetables are soft.  
Submitted by Kim Stoltz – York, PA
This recipe uses DelGrosso Spaghetti Sauce to make a delicious and healthy pot of Vegetable Crab Soup.  I love to make it for a quick meal to share with family and friends.  Consider serving this dish at your next Penn State tailgate.  It will be a crowd pleaser!