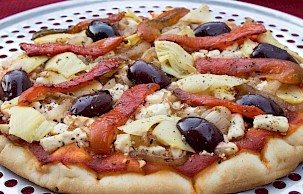 Mediterranean Flatbread Pizza
with New York Style Pizza Sauce
Serves: 2-4
Ingredients
2 flatbreads approximately
8 inches each
½ cup DelGrosso New York Style Pizza Sauce
1 cup crumbled tomato basil seasoned feta cheese
4 large marinated artichoke hearts
8 Kalamata olives
½ sweet bell pepper
½ large sweet onion
2 Tbsp canola oil
- Salt, pepper, and garlic powder to taste
- Fresh cracked pepper to taste
Directions
• Pre-heat oven to 400 degrees.
• Heat two small skillets on medium heat with 1 Tbsp of oil in each skillet.
• Slice pepper into strips. Season with salt, pepper, and garlic powder, and sauté until soft.
• Slice onion into rings, then cut the rings in half. Sauté until onions are soft and caramelized.
• Pour sauce on flatbreads and evenly spread to outer edge.
• Sprinkle feta cheese over the sauce.
• Add sautéed peppers and onions to the pizzas.
• Separate leaves from artichokes and place over peppers and onions.
• Cut Kalamata olives in half lengthwise and evenly distribute over the top of the pizzas.
• Bake for 10-12 minutes until bottom of flatbread is golden brown.
• Season the pizzas with fresh cracked pepper.
If you cannot find seasoned feta cheese, plain feta is a great substitute. You can substitute feta with fresh mozzarella, shredded mozzarella, or crumbled goat cheese. Sun dried tomatoes or cherry tomatoes would also make a delicious topping.