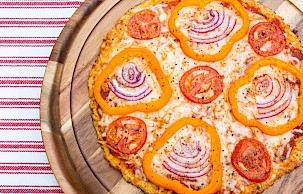 Cauliflower Crust Pizza
with New York Style Pizza Sauce
Serves: 2-3
Low Carb
Quick to make
Vegetarian
Gluten Free
Ingredients
For the Crust:
1 head cauliflower, stalk removed
¼ cup grated Parmesan cheese
½ cup shredded mozzarella cheese
2 eggs, beaten
1 tsp salt
½ tsp pepper
½ tsp dried basil
½ tsp dried oregano
¼ tsp granulated garlic
For the Toppings:
¼ cup DelGrosso New York Style Pizza Sauce
1 cup shredded mozzarella
½ bell pepper cut into rings
¼ cup sliced red onion
1 small tomato, sliced
salt, pepper, and granulated garlic to taste
Directions
Pre-heat oven to 425 degrees.
Place a piece of parchment paper on a baking sheet and set aside.
Break cauliflower into florets. Place half in a food processor and pulse until cauliflower resembles rice. Repeat with other half.
Place cauliflower rice in a microwave safe bowl and cook for 4 minutes. Let cool.
Wrap cauliflower in a clean towel or cheese cloth and squeeze to get all the moisture out.
In a mixing bowl, combine cauliflower with all the other crust ingredients and mix until well-blended.
Press cauliflower mixture onto the parchment paper in the shape of a circle, approximately 10 inches around.
Bake crust for 30 minutes. Remove from oven and let cool.
Flip crust over. Add toppings, then season with salt, pepper, and garlic.
Bake for 10-12 minutes until cheese is melted and crust is golden brown.