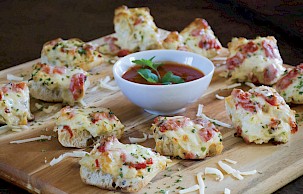 Cheesy Artichoke Bread
with Garlic and Cheese Pasta Sauce
Serves: 12
Ingredients
1 loaf French baguette
2 15 oz cans artichoke hearts, drained and chopped
1 cup mayonnaise
1 ¼ cup grated Parmesan cheese, divided
2-3 cloves garlic, pressed or chopped
1 cup roasted red peppers, sliced in short strips
3 cups shredded mozzarella cheese
1½ cups shredded asiago cheese
1 cup DelGrosso Garlic and Cheese Sauce
Directions
• Pre-heat oven to 425 degrees.
• Slice French baguette in half lengthwise and lay on a baking sheet, face up.
• In a bowl, combine artichoke hearts, mayonnaise, 1 cup of Parmesan cheese, and garlic. Stir until well-blended.
• Spread artichoke mixture on both halves of bread and top with roasted red pepper strips.
• Sprinkle with remaining Parmesan cheese, then top with mozzarella and asiago cheeses.
• Bake at 425 degrees for 13-15 minutes until cheese is melted and starts to brown.
• Heat sauce in small pan on medium-low.
• Slice bread into small pieces and serve with sauce for dipping.
Try different cheeses such as cheddar, fontina, or provolone. Use a variety of toppings such as sun-dried tomatoes, olives, or mushrooms. This mixture can also be placed in a sweet pepper or jalapeño and roasted for a great stuffed pepper appetizer.