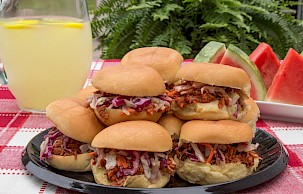 Pulled Pork Sliders
with Sloppy Joe Sauce
Serves: 8
Ingredients
3 pounds pork loin
¼ cup pork rub seasoning
5 cups shredded cabbage
4 Tbsp olive oil
2 Tbsp red wine vinegar
1 Tbsp coarse ground mustard
1 Tbsp honey
¼ tsp celery salt
salt and pepper to taste
1 jar DelGrosso Sloppy Joe Sauce
16 slider rolls
Directions
Place the pork loin in a roasting pan.
Season the pork loin generously with your favorite pork rub seasoning and massage into the meat on all sides.
Fill the pan with water until it reaches half way up the pork loin.
Cover the pan with foil and roast at 350 degrees for approximately 1 ½ hours until no longer pink or the internal temperature of the meat reaches 150 degrees.
Remove from oven and set aside for about 30 minutes covered.
Shred the pork using two forks and place in a small pot.
Add one jar of Sloppy Joe sauce to the pork, mix through, and simmer for 20 minutes.
In a small bowl, whisk together olive oil, vinegar, mustard, honey, celery salt, salt and pepper and pour over shredded cabbage.  Set coleslaw aside until pork is done.
Place pork on slider rolls and top with coleslaw.
Pork loin is a leaner meat than other cuts.  If you would like a fattier pork with more flavor, use Boston butt or shoulder. For added flavor, roast the pork with beer instead of water. For a creamier coleslaw use a mayonnaise dressing or chipotle ranch dressing.