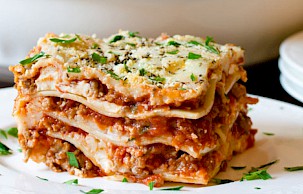 Deep Dish Lasagna
with Meat Flavored Pasta Sauce
Serves: 4-6
Ingredients
• 1 lb. ground chuck
• 1 tsp salt
• 1/2 tsp pepper
• 1 26 oz. jar DelGrosso Meat Flavored Spaghetti Sauce
• 2 cups water 8 - lasagna noodles cooked and drained
• 2 lb. whole milk ricotta cheese
• 2/3 cup grated Parmesan or Pecorino Romano Cheese
• 3 eggs
• 2 Tbsp chopped fresh parsley
• 2 cups shredded mozzarella cheese
Directions
• In a large skillet, brown ground chuck seasoned with salt and pepper.
• Drain off excess fat.
• Combine DelGrosso Meat Flavored Spaghetti Sauce and water.
• Add sauce mixture to meat. Simmer for 1/2 hour.
• In a medium bowl, mix together ricotta cheese, 1/3 cup grated cheese, eggs, parsley, salt and pepper.
• Cover bottom of a 9" by 13" baking dish with 1 cup sauce mixture, place 4 lasagna noodles on top of sauce mixture (noodles may overlap), spread half of ricotta mixture over noodles, cover with 1 cup mozzarella and sprinkle with grated cheese.
• Repeat process above for the second layer.
• Cover and bake at 325 degrees for 1-1/2 to 2 hours until top layer has a spongy texture.
• Remove from oven and let stand 1/2 hour before cutting.
• Serve with remaining heated sauce mixture.
Notes
Preparation Time: 1 hour 30 minutes.